Fellowships in Cardiothoracic Anesthesiology were ACGME accredited in 2006. The following year, our program became accredited. We currently offer three fellowship positions per year. Prior to the recent accreditation, our program was in existence for over 20 years and produced numerous graduates that are leaders in the specialty of Cardiothoracic Anesthesiology.
The mission of the Weill Cornell Cardiothoracic Anesthesiology Fellowship Program is to train anesthesiologists to become expert consultant cardiothoracic anesthesiologists and perioperative physicians in both academic and non-academic settings. In addition to becoming recipients of the ACGME certificate in Cardiothoracic Anesthesiology, it is also expected that the fellow will successfully complete the requirements and become a Diplomate of the National Board of Echocardiography in Advanced Perioperative Transesophageal Echocardiography (PTEXAM).
A brief summary of objectives of the program includes:
Consult on cardiac and thoracic patients preoperatively and learn independent assessment and preparation of patients for cardiothoracic anesthesiology, including evaluating anesthetic risk and strategies to minimize perioperative morbidity and mortality.

Develop expertise in monitoring and maintenance of normal cardiac physiology and delivery of anesthesia during the perioperative period with consideration of patient's disease process.

Learn principles of extracorporeal circulation/support and basic management of these devices.

Learn independent management of critically ill patients.

Learn advanced management of cardiac and pulmonary resuscitation.

Learn evaluation of respiratory function and develop independent management skills of both invasive and noninvasive approaches to mechanical ventilation.

Develop expertise in technical skills including placement of invasive monitoring lines, spinal drains, and other ICU procedures.

Learn advanced Transesophageal Echocardiography skills, performing and interpreting TEEs for wide variety of cases and intraoperative events.

Supervise, teach, and evaluate personnel, both medical and paramedical, involved in the care of cardiothoracic surgery patients.

Learn the fundamentals of conducting clinical research.

Learn strategies for relief and prevention of pain during and following cardiothoracic surgical procedures.

Clinical experience during fellowship includes the areas of: 

Coronary artery revascularization

Valve surgery (repair or replacement)

Thoracic aortic surgery, including ascending, arch and descending thoracic aorta

Circulatory arrest procedures

Pulmonary thrombo-embolectomy 

Ventricular Assist Device (VAD) implantation

Adult congenital heart surgery

Pediatric congenital heart surgery

Thoracic surgery, including VATS and pulmonary resections

Esophageal surgery

Tracheal surgery

Hybrid surgical procedures

Catheter-based interventions including valve implantation (e.g. TAVR, valve-in-valve) and repair (closure of para-prosthetic leaks and mitral regurgitation) and closure of congenital defects 

Electrophysiology procedures, including PPM/ICD implantations and arrhythmia ablations

Extensive perioperative transesophageal echocardiography training in preparation for National Board of Echocardiography Advanced PTEXAM certification
Program Director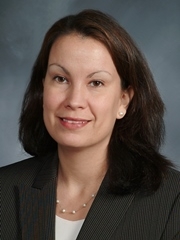 Shanna Sykes Hill, M.D.
Assistant Professor of Anesthesiology
Program Director, Cardiothoracic Anesthesia Fellowship
email: scsykes@med.cornell.edu
Contact:
Natalie Benjamin
Phone: (212) 746-2779
E-mail: anes-ctfellowship@med.cornell.edu

ACGME Accredited Fellowship in Adult Cardiothoracic Anesthesiology
Number of Positions: 3
Duration of training: 12 months
Program Director:
Shanna Hill, MD
Assistant Professor of Clinical Anesthesiology
Office 212-746-2902, Email: scsykes@med.cornell.edu
Director, Cardiac Anesthesiology:
Meghann Fitzgerald, MD
Assistant Professor of Anesthesiology
Office 212-746-2775, Email: mmf9003@med.cornell.edu
Program Contact:
Natalie Benjamin
Department of Anesthesiology
Weill Cornell Medical College, NewYork-Presbyterian 
525 East 68th Street, M-302
New York, NY 10065, USA
Office 212-746-2779, Fax 646-962-1920
Email: nab9064@med.cornell.edu
Clinical Experience & Educational Program
1. Clinical Experience gained during fellowship
Coronary Artery revascularization
Valve surgery
Thoracic aortic surgery, including ascending, arch, and descending thoracic aorta
Circulatory arrest procedures
Pulmonary thromboembolectomy surgery
Ventricular Assist Device (VAD) implantation
Extracorporeal Membrane Oxygenation (ECMO) device implantation
Adult congenital heart surgery
Pediatric congenital heart surgery
Throacic surgery, including VATS and pulmonary resections
Esophageal surgery
Tracheal surgery
Hybrid surgical procedures
Catheter-based interventions including valve implantation (transcatheter aortic and mitral valve replacements) and repair (mitraclip repairs)

Electrophysiology procedures, including PPM/ICD implantations and arrythmia ablations

Extensive perioperative transesophageal echocardiography training in preparation for National Board of Echocradiography PTeXAM certification
2. Clinical and research components
Ten months clinical activity is required during the fellowship. This includes a minimum of six months of cardiac anesthesiology, one month of thoracic anesthesiology, and one month of critical care. Up to two months of electives are available.

Electives are available in critical care, thoracic anesthesiology, cardiology (including TTE rotation)

, pediatric cardiac anesthesiology 

and various perioperative areas. If additional experience in pediatrics is desired, we offer the opportunity of a one-month elective rotation at Boston Children's Hospital.

Fellows are expected to become proficient in transesophageal echocardiography during their fellowship and meet all requirements to become Diplomates of the National Board of Echocardiography in Advanced PTEXAM 

Fellows are required to participate in scholarly activities during their fellowship. Fellows may choose to participate in an ongoing trial, develop an independent idea, or other scholarly activities, such as write-up of an Echo Rounds or Echo Didactic submission, compilation or revision of a chapter, participation in city-wide Echo meetings, or submission of challenging case in the SCA meeting. Support is provided for such activities.

One to two months for a research elective is offered. There are multiple clinical studies ongoing in our division in which the fellow can participate. We also support and encourage the fellows to develop research projects.
3. Participant's supervisory and patient care responsibilities
Our fellows provide anesthesia for a variety of surgical procedures, including cardiac, thoracic, and congenital surgical cases. The fellow will have experience with as both the  primary anesthesia provider (work without a resident) and with teaching/supervising a resident during cases. At all times the fellow is under the direct supervision of an attending faculty member.

In the Intensive Care Unit (ICU) the fellow functions as a part of the patient care team, comprised of the attending anesthesiologist, fellows, residents, and anesthesia physician assistants. The fellow is expected to lead rounds and actively participate in the daily care, supervising the residents and PAs in procedures etc.
4. Procedural requirements
The fellow is expected to acquire advanced skills in the placement of invasive monitors, including arterial lines, central venous lines, pulmonary artery catheters, and spinal drains. The fellow will also acquire skills in advanced airway management, including use of the fiberoptic bronchoscope and various methods of one lung ventilation.
The fellow will acquire advanced skills in performing and analyzing transesophageal echocardiography. The fellows have ample exposure to 2D, Doppler, and 3D echocardiography modalities. The fellows accrue more than 300 complete perioperative echocardiographic examinations during the year, of which at least 150 are comprehensive intraoperative TEE examinations performed, interpreted, and reported by the fellow. 
In the ICU, the fellow is expected to acquire advanced skills in placement and management of the invasive monitors described above. In addition, the fellow will gain exposure to other procedures such as thoracentesis, pericardiocentesis, chest tube placement, IABP placement, and cardioversions.
5. Didactic components
The fellows receive didactic lectures throughout the year covering the range of cardiac, thoracic, and pediatric cardiac topics.

There is a Division-wide cardiac anesthesiology conference every Tuesday morning that includes lectures, QPI, case reviews, echocardiography review, and journal review.

The fellows have full use of the echocardiography simulator, which includes both transesophageal and transthoracic modules. This is particularly helpful for augmenting technical and spatial orientation skills during the first half of the year.

The fellows have protected time for echocardiography case review with faculty members, as well as echocardiography case conference.

The fellows attend weekly department grand rounds.

The fellows are encouraged to attend relevant conferences and lectures available in other hospital departments including cardiac surgery, critical care, cardiology, cardiac catheterization, electrophysiology, and echocardiography.
6. Meeting Participation
The fellows are supported to attend the Society of Cardiovascular Anesthesiologist (SCA) Annual Comprehensive Review & Update of Perioperative Echo. 

The fellows are expected to present a poster presentation at the Annual SCA meeting.

The fellows are also encouraged to attend additional anesthesiology-related meetings. Financial support is available if presenting original work.
7. Evaluation
The supervisory attending physicians review the fellows quarterly using a confidential on-line system.
The fellows review the program quarterly and the faculty bi-annually.
After all evaluations have been received for the quarter, the Fellowship Clinical Competency Committee meets to discuss and aggregate the information. After this meeting, the program director meets with the fellows to provide verbal feedback on performance. The fellows have access to their evaluations in the on-line system.
At the end of the year a written summative evaluation is provided to the fellows and reviewed with the program directors.
Teaching Staff: All of the attending physicians listed below are responsible for supervision and teaching in the perioperative period, teaching and/or lecturing, and evaluating the fellows' progress over the course of the year.
Cardiac Anesthesiology/CTICU:
Shanna Hill, MD, Fellowship Program Director, Assistant Professor

Stephen Thomas, MD, Professor

Natalia Ivascu, Associate Professor 

Adam Lichtman, MD, Associate Professor

Meghann Fitzgerald, MD, Assistant Professor

Shrey Kumar, MD, Assistant Professor

James Osorio, MD, Assistant Professor

Lisa Rong, MD, Assistant Professor  

June Chan, MD, Instructor in Anesthesiology

Sankalp Sehgal, MD, Instructor in Anesthesiology

Christopher Tam, MD, Instructor in Anesthesiology

Zahra Malik, MD, Assistant Professor of Clinical Anesthesiology



Irene Stadnyk, MD, Assistant Professor of Clinical Anesthesiology

Liang Shen, MD, Instructor in Anesthesiology

Thoracic Anesthesiology:
Hugh Hemmings, MD, Chairman, Professor, Senior Associate Dean for Research

Eric Brumberger, MD, Residency Director, Assistant Professor

Marcus Gutzler, MD, Assistant Professor

Jaideep Malhotra, MD, Assistant Professor

Matt Murrell, MD, Assistant Professor

Kevin Walsh, MD, Instructor in Anesthesiology

Mahendranauth Samaru, MD, Assistant Professor of Clinical Anesthesiology

Pediatric Anesthesiology:
Aarti Sharma, MD, Co-Director of Pediatric Anesthesiology, Associate Professor

Peter Savard, MD, Assistant Professor

Jacques Scharoun, MD, Assistant Professor
Teaching Facilities:
Currently all required rotations take place at NewYork Presbyterian Hospital - Weill Cornell Medical Center. Weill Cornell Medical College is the medical school of Cornell University. The medical college and its affiliate hospital, NewYork Presbyterian Hospital, are currently located at 1300 York Avenue, on the Upper East Side of Manhattan in New York City, along with the Weill Cornell Graduate School of Medical Sciences.
Educational Resources:
Fellows have access to all resources in the Department of Anesthesiology, NewYork Presbyterian Hospital, and Weill Cornell Medical College. This includes the departmental library and the medical school library, as well as extensive online resources. The Anesthesiology Library has conference/study space, an LCD projector, PC computers, and printers. The fellows have open access to the medical center library, which has extensive holdings in a variety of media as well as ample area for relaxing academic study. The fellows are additionally provided with office desks (locked cabinets), computers, and a "fellow's library", which is an essential collection of cardiac anesthesiology, echocardiography, and other textbooks.
To qualify, an applicant must have attended medical school followed by successful completion of four or more years of residency training in anesthesiology in an ACGME accredited program. According to our hospital GME policy, we are only able to accept J1 or Type O visas at this time.
Special consideration will be made for exceptional applicants who are interested in completing our Cardiothoracic Anesthesiology fellowship and our Anesthesiology Critical Care Medicine fellowship in sequence.  Candidates interested in being considered for acceptance to both programs should present their formal application using the steps below and send a separate letter of intent to anes-programs@med.cornell.edu. 
How to apply
This program participates in the San Francisco Match (sfmatch.org). The Central Application Service (CAS) is a service provided through the SF Match office that distributes applications to training programs. The use of CAS is mandatory, and assures that applications are uniform, complete, and distributed in an orderly fashion. You will need to complete your application in two steps: first, you will need to register on-line via the SF Match website and send the application materials indicated below to CAS. Second, once you have completed and sent the CAS package, you will need to send additional materials directly to our office. The details are indicated below.
STEP ONE. The Applicant's Responsibility (Through the SF Match website)
The CAS requires you to manage your online account information and be responsible for assembling and mailing all support documents.
Please register online with the SF match to be considered for an interview via CAS. Please see sample application and instructions below:
Mailing Your Complete CAS Package
CAS – SF Match
655 Beach Street
San Francisco, CA 94109
Note: Use a form of mail that you can track (FedEx, UPS, etc.).
You are required to submit the following documents to consider your application complete:
Application Materials sent to CAS:
CAS Distribution List (On‐line Submission)
Completed CAS application form (On‐line Submission)
Three (3) letters of reference

One letter must be from the residency program director
One letter must be from a cardiac anesthesiology attending (letters will be downloaded from SF Match Website)
STEP TWO. Additional documents required (send directly to our program)
Please gather the following document to send directly to our office, via regular mail or email:
USMLE (steps 1-3) or NBME (1-3)
Most recent anesthesiology ABA in-training exam or board exam scores
Once the necessary documents have been gathered, send all documents to our office in one package. With the exception of forms submitted online, you must mail all documents in one package to our office.
Mail additional application materials to:
Cardiothoracic Anesthesiology Fellowship
c/o Natalie Benjamin, M-302
Dept. of Anesthesiology
NewYork-Presbyterian Hospital/Weill Cornell Medical Center
525 East 68th Street, Box 124
New York, NY 10021
e-mail: anes-ctfellowship@med.cornell.edu
Once these materials have been received and reviewed, we extend interview offers in February. We interview approximately 30 applicants per season. You must complete an interview in order to be considered for a match placement.
Projected timeline for applications for the 2019-2020 academic year application season:
SFA Match Registration begins: November 10, 2017
Application deadline: April 30, 2018
Interview period: February 1 - May 15, 2018
Rank lists due: June 4, 2018
Match results: June 18, 2018