Mission
The mission of the Quality and Patient Safety (QPS) division of the department of Anesthesiology is to provide the highest level of care to patients in a safe environment. To achieve this goal, we support individual anesthesia clinicians at NewYork-Presbyterian/ Weill Cornell Medical Center as they provide safe and reliable clinical care.
We hold Quality and Patient Safety (QPS) education programs for residents and fellows, and collaborate with national quality improvement and patient safety networks. 
Quality and Patient Safety Curriculum
Goals
Promote a culture

 

of safety to maintain a safe and professional work environment for anesthesiology residents. 

Teach key principles of quality improvement methodologies and facilitate efforts to optimize quality of care for patients and families. 
Disseminate quality improvement and patient safety indicators relevant to the practice of anesthesiology and raise awareness of individual and departmental practice relative to national performance and standards. 
Objectives
After completing the Department of Anesthesiology's Quality Improvement and Patient Safety Residency Curriculum, residents will be able to: 
Identify patient safety concerns and opportunities for improvement in healthcare systems.
Understand the adverse event reporting and review processes used by the Department of Anesthesiology and the NewYork-Presbyterian Hospital.
Apply quality improvement (QI) methods and work in interdisciplinary teams aimed to improve the efficiency and effectiveness of patient care systems. 
Identify challenges and barriers associated with performance improvement initiatives. 
Understand anesthesiology related quality improvement and patient safety indicators and how to improve individual clinical practice to meet departmental and national standards. 


Quality and Patient Safety Education Day
This full-day course is designed to teach participants the tools and methodology they need to conduct a successful quality improvement initiative. Leading up to the workshop, participants reflect on the quality initiatives they would like to address based on their own clinical experiences. This provides them with the framework to address problems that arise in healthcare systems with the ultimate goal of enabling physicians to improve patient safety and quality of care. 
Related Stories
Full House for Quality and Patient Safety Education Day 
Residents and Fellows Tackle Quality Improvement Initiatives 


Resident-driven QI Program
The Resident Driven Quality Improvement (RDQI) Project program provides formal training on QI methodology, practical project experience and is a valuable component of Anesthesiology residency education. In addition, this program is designed to enhance collaboration among the Department of Anesthesiology of Weill Cornell Medicine (WCM), and Perioperative Services of NewYork-Presbyterian Hospital (NYPH).
The multi-faceted RDQI program stresses QI methodology teachings, direct experience in conducting QI projects, and collaborations across. Residents receive a foundation in QI methodology during QPS Education Day, a full-day course led by the department and NYPH. Residents then apply this knowledge in QPS education in their initiatives. Throughout the year, they are guided by a faculty mentor, and the advisory council: comprised of the QPS Chair, the QPS Administrator, the Residency Program Director, and the QPS coordinator. They also collaborate with others to study processes and make improvements.
Residents have gone on to present their work in local and regional conferences, including the New York Academy of Medicine.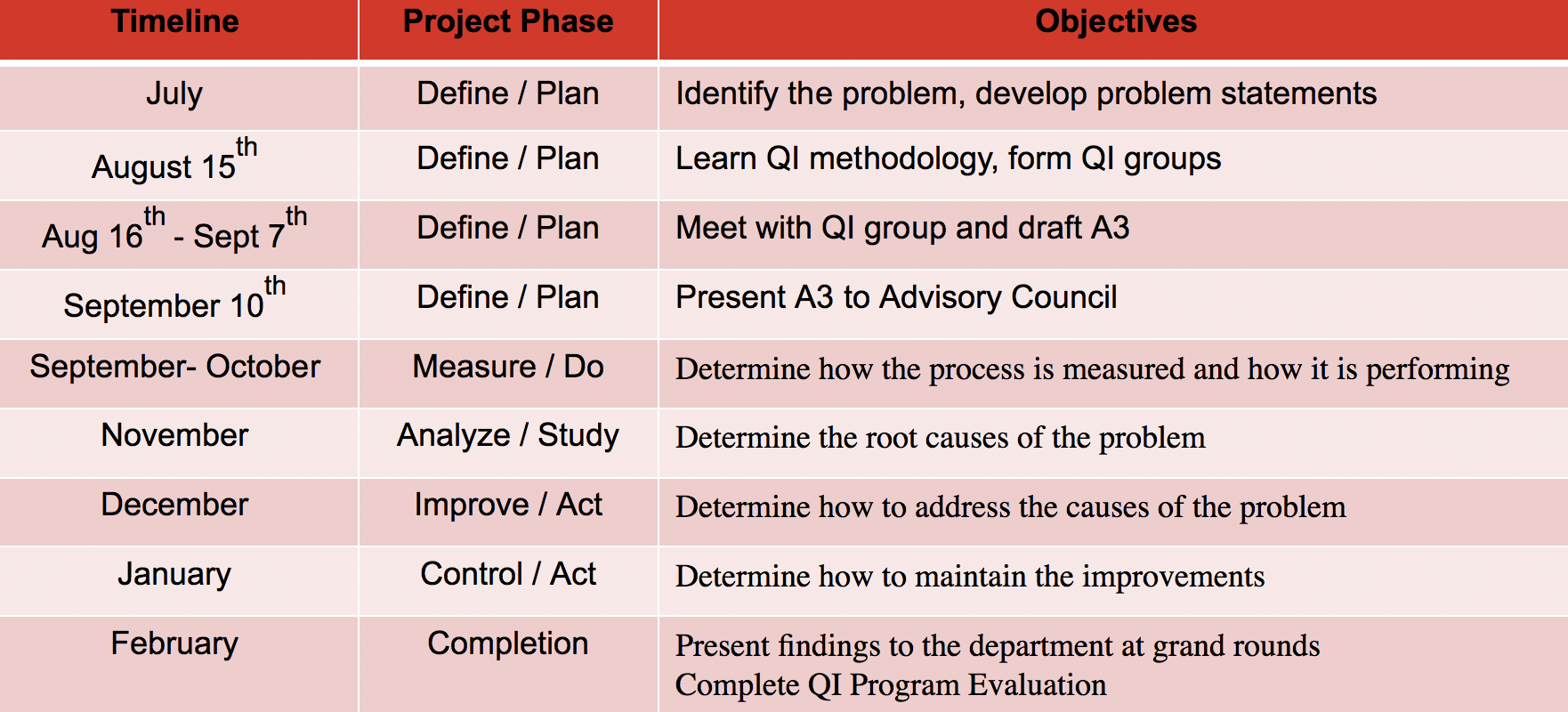 Root Cause Analysis (RCA) 

 Observation

Residents are given the opportunity to learn about the RCA process experientially. Residents are provided with pre-reading materials developed by the Institute for Healthcare Improvement to provide a background in the RCA process.  The QPS coordinator works with the Assistant Residency Program Director to schedule residents to observe RCA meetings.  A structured debrief is then held directly after the meeting to solidify understanding and clarify any questions the residents may have.  
Anesthesia Performance Improvement Reporting Exchange (ASPIRE)
ASPIRE is a quality improvement initiative comprised of over 40 hospitals across the nation focused on decreasing variation in care in processes known to impact postoperative complications and cost. Anesthesiologists receive individualized feedback regarding their performance on various patient safety indicators.
For more information, please visit: https://mpog.org/aspire/ 
Quality Improvement Initiatives
QPS Committee Overview 
QPS Committee members evaluate all patient care events. Findings are presented to the Committee at monthly meetings, and quality improvement strategies are discussed. The QPS Committee also reviews a departmental dashboard to track and trend events related to anesthesia care. 
Anesthesiology Patient Safety Award
The Anesthesiology Patient Safety Award is one of the tools used by the QPS Committee to encourage a culture of safety among the department.  The Committee may select a clinician to receive this award for promoting patient safety and/or improving quality of care. The award is presented to the awardee at departmental Grand Rounds along with a small gift card as a token of appreciation. 
Patient Safety Awareness Week
Every year for National Patient Safety Awareness Week, the Department of Anesthesiology hosts a luncheon for anesthesiologists, residents, CRNAs, and staff to discuss departmental patient safety initiatives as well as new ways in which patient safety and quality of care can be improved.
Who We Are
Patricia Mack, MD
Vice Chair for Patient Safety & Quality Improvement
Director, Non-Operating Room Anesthesiology
Associate Professor of Clinical Anesthesiology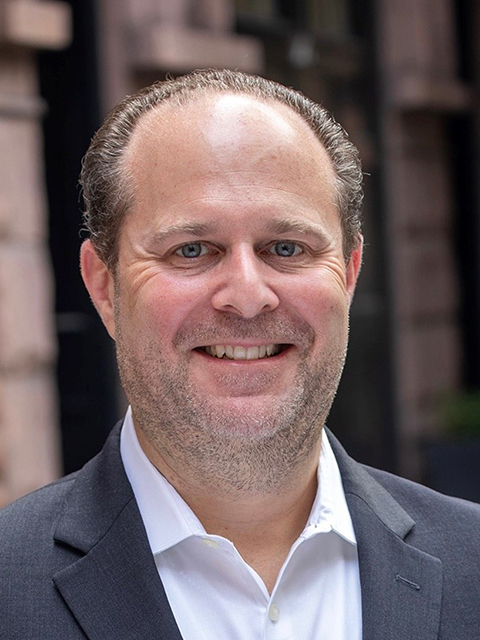 Aaron Weinberg
Quality and Patient Safety Administrator