Overview
The 12-month program trains fellows in all aspects of obstetric anesthesiology. NewYork-Presbyterian/Weill Cornell Medical Center has over 5,000 deliveries per year, including a significant number of high-risk cases. Fellows complete 13 4-week block rotations, spending 8 rotations on the labor and delivery anesthesia team and 3 rotations fully dedicated to a variety of teaching and research projects. During the labor and delivery rotations, one day a week will also be dedicated to teaching and research. An additional 8 weeks are spent on 4 2-week rotations: Maternal-Fetal Medicine, Neonatal ICU, Transfusion Medicine, and Simulation Design. Fellows acquire accreditation in Neonatal Resuscitation and Electronic Fetal Heart Rate Monitoring. In accordance with ACGME requirements, fellows will present an original teaching or research project at the Annual Meeting of the Society of Obstetric Anesthesia and Perinatology.
Application
Please e-mail Marlene Augustine with any questions regarding the application. Applications are accepted beginning January 1st through May 31st to start the program the following July (one year later).
Click below to download the application.

OB_Anesthesiology_Fellowship_Application.pdf
Program Director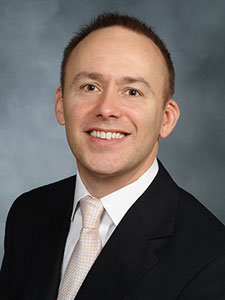 Klaus Kjaer-Pedersen, MD
Associate Professor of Clinical Anesthesiology
Program Director, Obstetric Anesthesia Fellowship