The Department of Anesthesiology at Weill Cornell Medicine is committed to training and supporting outstanding scholars who intend to pursue an academic research career.
The Van Poznak Anesthesiology Research Scholarship provides structure and support to enable our scholars to establish a strong research foundation and develop into independent investigators. We seek to recruit and train scholars who will continue to advance the field of anesthesiology and will ultimately go on to become leaders in their fields of interest. The Van Poznak Anesthesiology Research Scholarship is distinguished by a high level of attention and investment dedicated to the development of individual scholars, a rich diversity of research opportunities across multiple institutions, and a 100% funding success rate for program graduates.
Program Structure
Traditional 4-year residency program with up to 9 months of built-in research time. The specific allotment of research time is negotiable (e.g. 1-2 weeks or one month at a time) and is tailored to a scholar's individual academic and clinical needs.
6 months in CA3 (PGY4) year.

Additional support during PGY2-3 years depending on individual needs.

Scholars are expected to continue taking clinical call during research blocks.
Research or clinical fellowship during PGY5 year.
Research fellowship includes 80% protected research time.
Clinical fellowships (Cardiac, Critical Care, Neuro, OB, Pain, Regional, Thoracic) include up to 60% protected research time, depending on the fellowship requirements and the specific needs of the scholar.
In exceptional circumstances, scholars may pursue clinical fellowships at other institutions and return to the program on completion.
Junior faculty year during PGY6 includes 60-80% protected research time, dependent on intra- or extra-mural funding.
In addition to their selected research mentors, scholars have access to clinical and professional mentors, with regular individual check-ins as well as formal Van Poznak quarterly group meetings to discuss research support (e.g. IRB, grants, and manuscript writing) and professional development (e.g. poster and podium presentations, networking opportunities, etc).
Finally, the Van Poznak program hosts a monthly Van Poznak Research Seminar (VaPoRS) which is open to the community and highlights work done by current and former scholars, as well as by other research faculty in the department. 
Unique and Distinguishing Features of the Program
Flexible funding structure does not restrict research activities or compensation to a traditional T32-style track. Scholars are able to seek mentorship in any department and/or co-mentorship within and outside the above six institutions. Scholars can also find mentors to support a variety of development tracks, whether as formal postdocs, as principal investigators, or somewhere in-between, depending on prior experience and academic readiness.
Significant breadth in the type of supported research within the department, including biophysics and structural biology, cognition and neuroscience, device development, machine learning, "big data" population health science, healthcare disparities, global health, clinical cardiology, pragmatic clinical trials, and more.
Scholars can join the program directly as a PGY1 through a separately rankable track on NRMP. Applicants who are applying for a PGY2 Anesthesiology position can also apply to join the Van Poznak Scholars starting PGY2 year.
A principal goal of the Van Poznak Program is to prepare scholars for successful mentored research training grant applications. 100% of prior scholars who have completed the program have obtained mentored research training grants through the Foundation for Anesthesia Education and Research or National Institutes of Health, or an equivalent metric in their area of pursuit.
Administrative Support and Resources
The Van Poznak Anesthesiology Research Scholarship is headed by a team of dedicated clinician-researchers:
In addition to former scholars who are now members of our faculty, there are numerous other faculty at Weill Cornell Medicine and our affiliate institutions that are also actively involved with the scholars program, including:
There are extensive resources and support structures in place that are available to scholars throughout their residency and post-graduate careers, including:
Center for Perioperative Outcomes (CPO)
Weill Cornell Medicine funding opportunities
Salary and Awards
Salary for the PGY1 through PGY4 years will be at the normal rate for residents at Weill Cornell - New York Presbyterian Hospital. A supplemental stipend of $10,000 annually will be provided to Scholars for PGY2 through PGY4 years.
PGY5 salary will be at the normal rate for Department of Anesthesiology clinical fellows and may be supplemented by voluntary clinical duties.
PGY6 salary will be at the normal rate for Department of Anesthesiology faculty.
Financial support for national and international conferences will also be provided.
Application Procedure
All applicants for the Van Poznak Anesthesiology Research Scholarship must apply through ERAS for a regular anesthesia residency position at NewYork-Presbyterian/Weill Cornell Medical Center. Candidates wishing to apply for the scholarship should send a brief description (1-2 pages) of their research background and experience to the Residency Program Director, Dr. Eric Brumberger (E-mail: erb9015@med.cornell.edu).
Van Poznak Research Scholarship interviews will be offered as a supplement to the standard residency interviews, as applicants will have an extended interview day with scholarship administrators, current and former scholars, and other research faculty. The Van Poznak Research Scholarship is a rankable NRMP match and decisions for acceptance will be extended through the Match.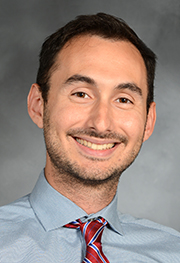 Joseph Scarpa, Jr., MD, PhD
PGY5, Fellow in Liver Transplant Anesthesiology
Dr. Scarpa develops and applies machine learning methods to better understand complex systems, from gene networks to health care systems. His work focuses on the application of biotechnology, genomics, and the digital universe to clinical practice, and includes contributions to the understanding of sleep regulation, stress susceptibility, addiction, and neurodegenerative disease. He is interested in better ways to monitor and model patients and disease to optimize perioperative care, and he is currently exploring the molecular effect of anesthetics in diseases like cancer, depression, and Alzheimer's disease. Dr. Scarpa received his MD and PhD from the Icahn School of Medicine at Mount Sinai, where he supported by the Ruth L. Kirschstein National Research Service Award (F30). He is also a Truman National Security Fellow and FASPE Fellow for Medical Ethics, focusing on the sociopolitical impact and ethical challenges of artificial intelligence.
Contact: jos9335@med.cornell.edu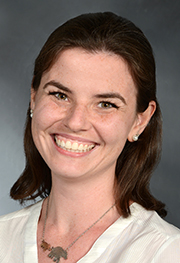 Julia Scarpa, MD, PhD, MS
PGY5, Fellow in Thoracic Anesthesiology
Chief Resident, 2022-2023
Dr. Scarpa seeks to develop a better understanding of cerebrovascular physiology under duress, in particular during operative stress and during spaceflight. She studies how pre-existing medical comorbidities and autonomic dysfunction affect perioperative hemodynamic stability and outcomes, and uses this model as an Earth-based analog for studying the effects of spaceflight-induced autonomic changes on cerebrovascular physiology. She is interested in developing medical contingencies for both space tourism and mission-based spaceflight. To this end, she is also interested in developing and validating devices that can be used to monitor physiology remotely. Dr. Scarpa has a background in neuroprosthetics and neuromonitoring -- her doctoral work focused on cortical decoding in a rodent model of neuroprothestic use, examining how the cortex responds to sensory stimuli while awake and while under anesthesia and how the cortex rewires during learning. This work was supported by an NIH F30 award, and she received her MD and PhD from New York University School of Medicine.
Dr. Scarpa hails from Northern Italy and grew up in the D.C. area. She loves living in New York City with her husband and two children, where she enjoys spending time in the many unique spaces within Central Park, including the zoo, the ramble, and the lake.
Recent Publications:
Scarpa J, Parazynski S, Strangman G. Space exploration as a catalyst for medical innovations. Front Med. 2023 Jul 19;10:1226531. doi: 10.3389/fmed.2023.1226531
Scarpa J, Wu CL. The role for regional anesthesia in medical emergencies during deep space flight. Reg Anesth Pain Med. 2021; 0: 1-4. doi:10.1136/rapm-2021-102710
Tommer N, et al. Lateralization of subcortical functional connectivity during and after general anesthesia. Br J Anaesth. 2021; Epub ahead of print.
Contact: jus9143@med.cornell.edu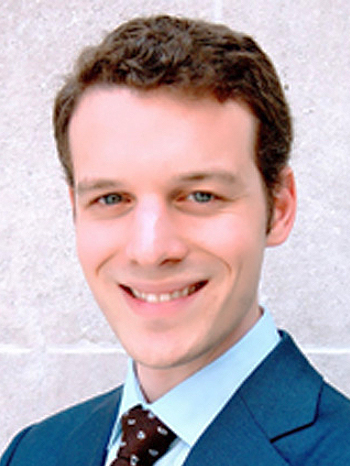 Andrew Milewski, MD, PhD
CA3-PGY4 (Class of 2024)
Dr. Milewski is interested in extracting useful information from underutilized intraoperative data streams. He is currently working to develop algorithms that may enable clinicians to make earlier decisions about targeted transfusion therapies. Dr. Milewski also aims to better characterize the human rights abuses suffered by refugees and asylum applicants in the hopes of improving treatment modalities for survivors of torture.
Before residency, Dr. Milewski completed the Weill Cornell Medicine/The Rockefeller University/Memorial Sloan Kettering Cancer Center Tri-Institutional MD-PhD program. His graduate work focused on understanding robust signal processing by mechanosensory hair bundles in Jim Hudspeth's lab at The Rockefeller University, at which time he was supported by the Ruth L. Kirschstein National Research Service Award (F30).
Dr. Milewski also served as the Co-Executive Director of the Weill Cornell Center for Human Rights and Co-Chair of the Physicians for Human Rights National Student Advisory Board during his graduate studies. Contact: anm2119@nyp.org.