January 27, 2021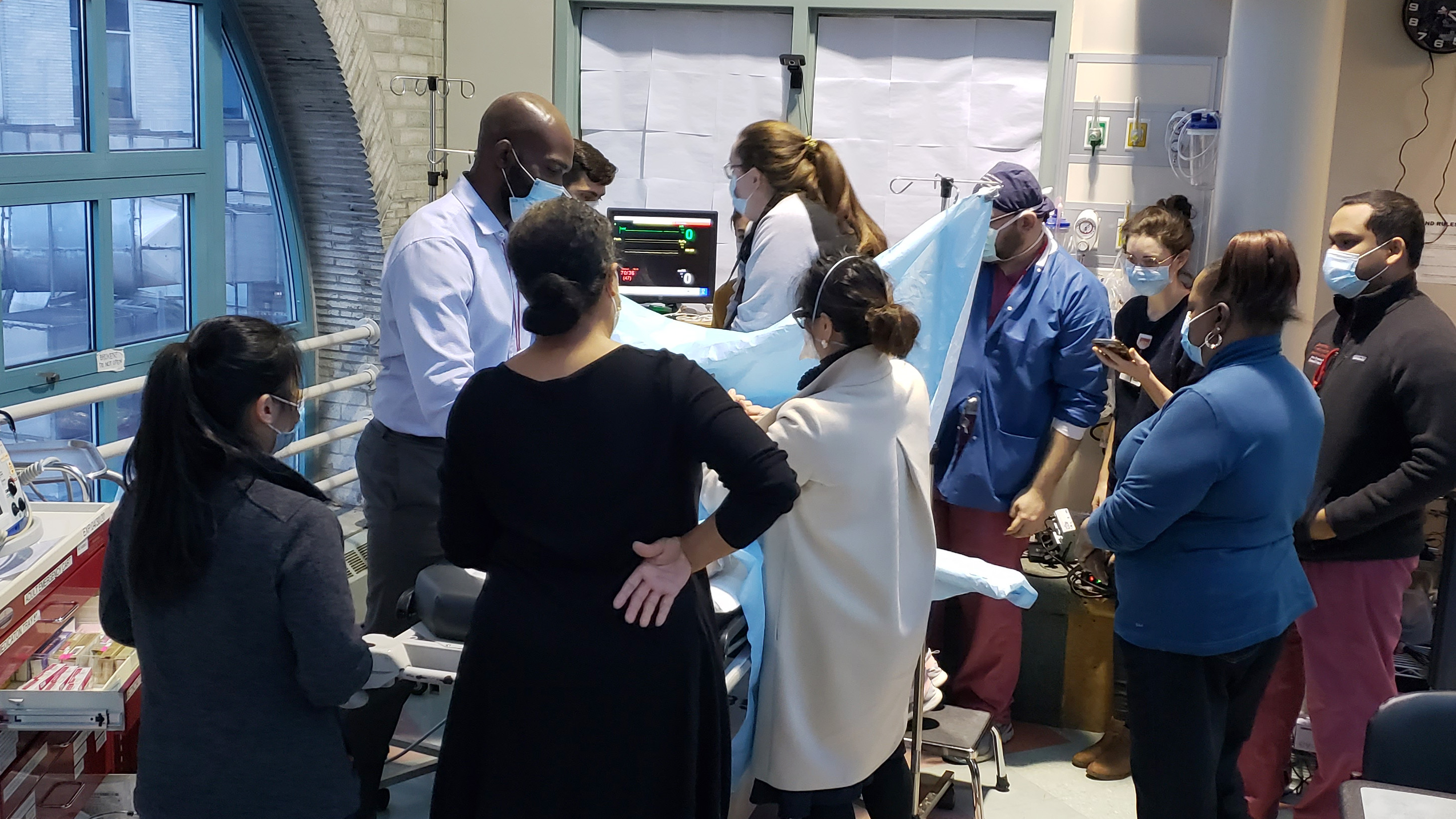 Editor's note: The Alexandra Cohen Hospital for Women and Newborns opened August 2, 2020. Dr. Sharon Abramovitz and CRNA Samantha Smith report on a successful simulation training program designed to prepare providers for obstetrical emergencies. Dr. Abramovitz is an associate professor of clinical anesthesiology and director of obstetric anesthesiology in the Department of Anesthesiology.
Prior to opening the Alexandra Cohen Hospital for Women and Newborns, the development of workflows and emergency preparedness was crucial for the success and safety of the new free-standing obstetrical unit. Anesthesiology, obstetric (OB), and nursing leadership determined that group-oriented simulation training would best prepare providers for diverse obstetrical emergencies while simultaneously fostering team building, with less dependence on resources and personnel from the main campus.
A multidisciplinary OB simulation committee was created to establish a curriculum of didactic and in-situ simulations. The cornerstone of the simulation curriculum was a Maternal Code Team Course held in the Weill Cornell Medicine NewYork-Presbyterian Simulation Center and led by Dr. Tim Clapper, director of education and associate professor of teaching in pediatrics. The four-hour course incorporated TeamSTEPPS principles as well as skills stations in high quality CPR and chest compressions, defibrillator training, code cart familiarity and basic airway management. Multiple maternal code simulations were run throughout the course to track progress. To ensure a high-performing code team, a saturation in-training model with the aim of 90% saturation across departments was the committee goal.
From the end of January to the beginning of March 2020, 354 providers completed the course within six weeks, equating to nearly 80% saturation. After the initial COVID surge and to account for new hires, an additional 100 providers were trained in the last four weeks of 2020 for a total of 452 participants. Overall, the Maternal Code Team Course reached more than 94% saturation. Within the Department of Anesthesiology, 27 attendings, one fellow, 32 residents, and 21 CRNAs completed the didactic course.
Additional in-situ simulations on the Cohen labor floor acclimated providers to the new environment prior to moving day. By focusing on prevalent maternal emergencies, such as post-partum hemorrhage and level 1 (stat) cesarean section, the simulations reinforced best-practice models for the multidisciplinary care team. In accordance with institutional COVID guidelines, a tele-simulation component was integrated into the curriculum with remote learners and observers. Despite physical social distance, participation from the virtual care team was incorporated throughout the entire scenario and debriefing process.
The success of the programs could not have been possible without the multidisciplinary leadership teams of Dr. Sharon Abramovitz and Dr. Corrina Oxford, director of labor and delivery. In addition, the Department of Anesthesiology's course facilitators assisted with skill stations, tele-simulation education and ensured that providers within our department were able to participate. Special thanks to Drs. Jaime Aaronson, Alaeldin Darwich, Danielle McCullough and CRNA Samantha Smith for their time and assistance.
Looking ahead to 2021, the multidisciplinary committee plans to expand the in-situ simulation curriculum to include additional obstetric emergencies. The Maternal Code Team Course will be an annual competency for anesthesiology, obstetric, and nursing providers to account for new staff, guideline reinforcement, and skills practice. Lastly, the didactic and in-situ simulations will support information dissemination as Cohen workflows are optimized to meet evolving patient safety demands.