February 3, 2020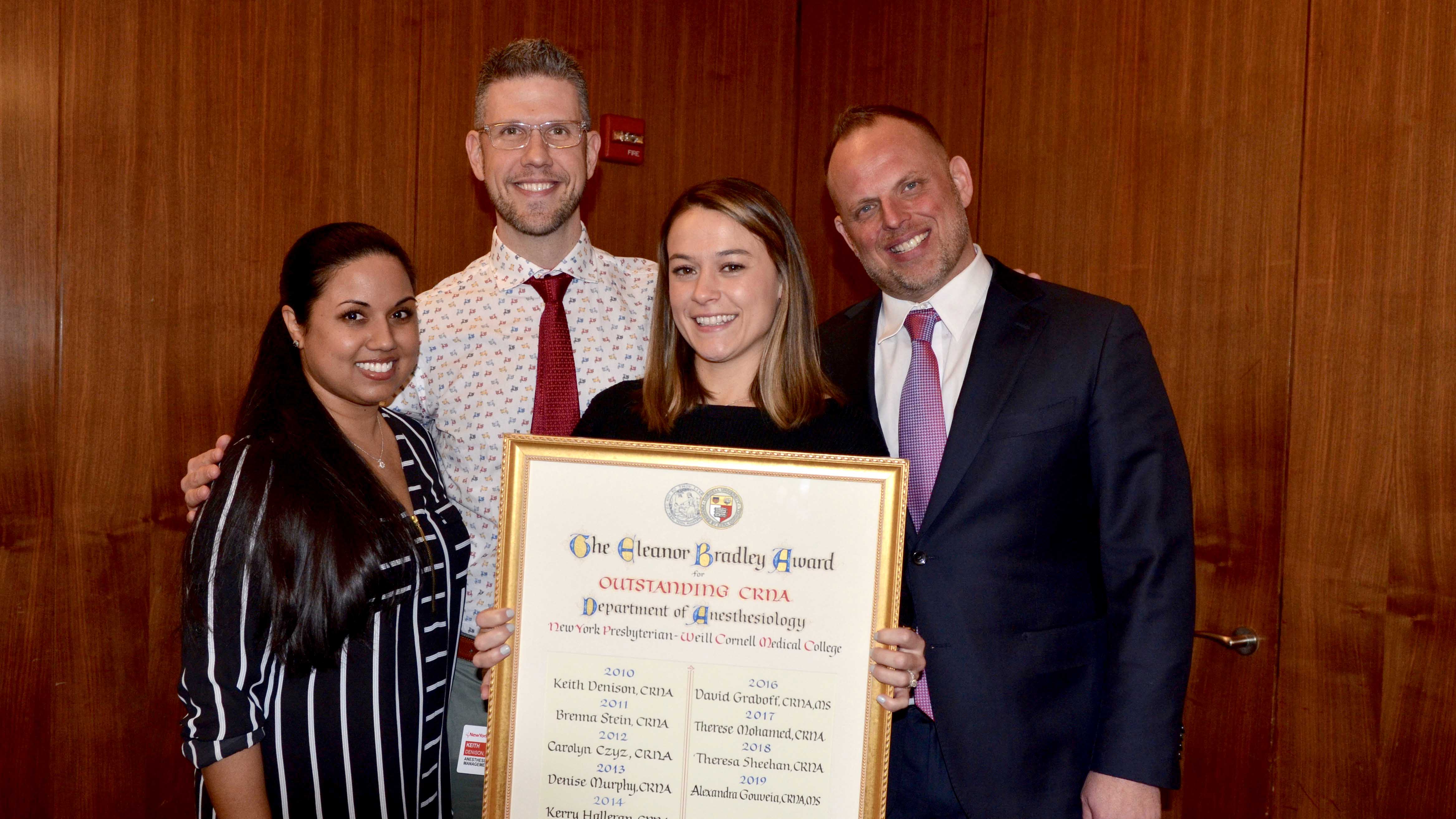 The Department of Anesthesiology hosted dual events to recognize the outstanding work of its Certified Nurse Anesthesthetists (CRNAs) during National CRNA Week, held this year January 19-25.
Department Chair Dr. Hugh Hemmings, Jr. gave opening remarks during a dinner at the Griffis Faculty Club.
"We work and function as a team," said Dr. Hemmings. "Our close collaboration between the anesthesiologists, the CRNAs and the anesthesia technicians is really crucial to the success of NewYork-Presbyterian Hospital." 
Two CRNAs were recognized for their exceptional contributions in 2019.
Alexandra Gouveia received the Eleanor Bradley award, given annually to a CRNA who exhibits leadership, professionalism, compassion, diplomacy, loyalty and dedication. Eleanor Bradley, a chief nurse anesthetist who devoted more than 40 years to NewYork-Presbyterian/Weill Cornell Medical Center, attended the dinner and presentation of the award bearing her name. 
Richard Lyons received the Outstanding CRNA of the Year award for Lower Manhattan Hospital (LMH). The LMH team also honored Dr. Jason White with the Faculty Professionalism Award. 
A host of speakers expressed their appreciation to the CRNAs, including Drs. David Kopman, Vinod Malhotra, Marisa McSwain, Jeremy Pick and Ralph Slepian. CRNAs Nick Fiori, Therese Mohamed, Keith Denison and David Leal also addressed their colleagues on both campuses.