June 1, 2017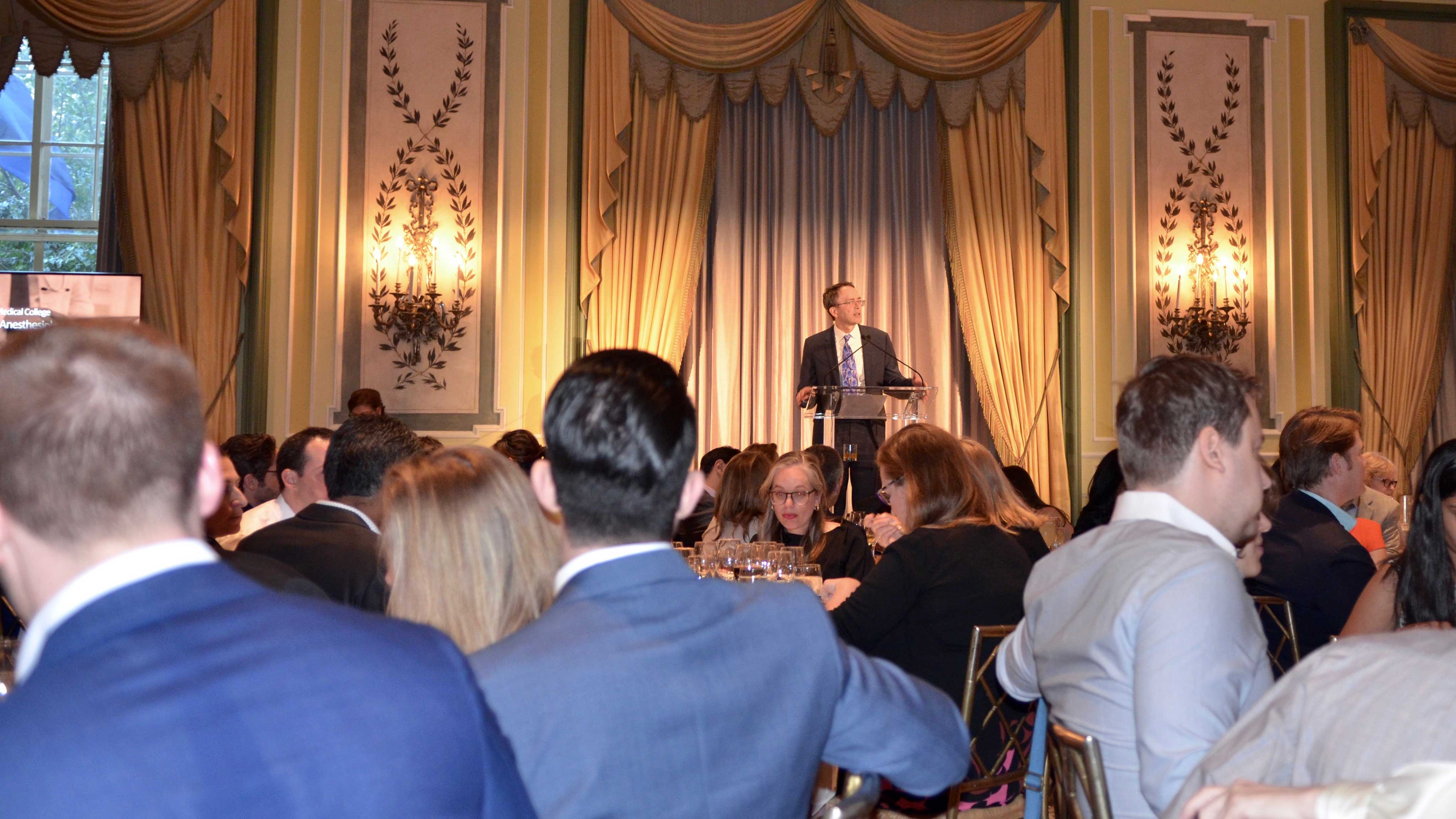 The Department of Anesthesiology celebrated its graduating residents and fellows with a dinner and ceremony at the Pierre Hotel on June 2. Department Chair Dr. Hugh Hemmings addressed the graduates, remarking that they were an inspiring and talented class.
"It's time for you to spread your knowledge and take care of patients around the world, and to advance the science of anesthesiology," he said. "We really look forward to that, although it is sad to see you leave."
Noting that it takes a team to produce an outstanding graduating class, Dr. Hemmings expressed his thanks to Education division leaders Dr. Kane Pryor, vice chair for academic affairs; Dr. Eric Brumberger, residency program director; Dr. Lori Rubin, director of medical student education; Dr. Angela Selzer, assistant director of education;  Dr. June Chan, instructor in anesthesiology; Dr. Shanna Sykes Hill, director of fellow education; and program coordinator Lisa Cabrera.
"These are the inspiring teachers that make the residency happen," said Dr. Hemmings. 
The evening continued with laughter and warm wishes as faculty honored each graduating resident and fellow, and presented awards.  
Congratulations to the department's 2017 graduates and award winners. They are: 
Class of 2017 Anesthesiology Residents
Neeti Butala, MD
Katherine Arthur, MD
Daryl Banton, MD
Jasmit Brar, MD
Yan Cui, MD
Ajay Dharmappa, MD
Dina Diskina, MD
Kristen Fardelmann, MD
Jacob Jackson, MD
Jenica Jones, MD
Jennifer Landon, MD
Danielle McCullough, MD
Maura McTague, MD
Daniel O'Neill, MD
Daniel Pak, MD
Patricia Pang, MD
Elizabeth Starker, MD
Ansara Vaz, MD
Brett Weiner, MD
Stephanie Willet, MD
2017 Anesthesiology Fellows 
Tri-Institutional Pain Fellowship Graduates
Akshay Garg, MD
Ramon Go, MD
Aron Legler, MD
Obinna Orji, MD
Shachi Patel, MD
Shawn Sikka, MD
Ian Margulis, MD
Elena Zininberg, MD 
Cardiothoracic Anesthesiology Fellowship Graduates
John Albert, MD
Corey Herman, MD
Joshua Kohtz, MD
Critical Care Medicine Fellowship Graduates 
Michael Katz, MD
Krish Sekar, MD
Regional and Thoracic Anesthesiology Fellowship Graduates 
Alison Krishna, MD
Nicholas Haralabakis, MD

Global Health Fellowship Graduate
Melanie Witte, MD 
2017 Award Winners 
Ronald A. Leff Award: Excellence in Clinical Teaching by a Resident
Daryl Banton, MD
Marjorie Topkins Award for NYPH Teacher of the Year
Stephanie Cheng, MD
Hospital for Special Surgery Teacher of the Year
Stephen C. Haskins, MD 
Memorial Sloan Kettering Cancer Center Teacher of the Year

Alessia Pedoto
Sadel Wortis Klein Award: Excellence in Clinical Performance

Daniel Pak, MD
Joseph F. Artusio Award: Outstanding Resident
Jasmit Brar, MD
Clinical Excellence in Regional Anesthesia Award on behalf of our friends @HSS
Elizabeth Starker, MD
Related Information: