April 17, 2017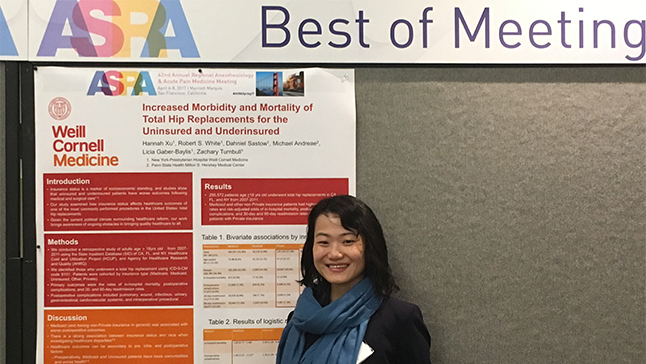 Weill Cornell Medicine Department of Anesthesiology was well-represented at the 42nd annual Regional Anesthesiology and Acute Pain Medicine Meeting (ASRA), held April 6-8 in San Francisco. Sixteen department members, including 12 residents, presented research at the meeting. 
"This is a testament to the strength of our regional anesthesia and pain medicine program," said Dr. Tiffany Tedore, associate professor of anesthesiology and the program director for the department's Regional Anesthesiology Fellowship. "We made a really strong showing and have been increasing our presence every year." 
One Weill Cornell abstract earned special recognition. A study by Dr. Hannah Xu, a resident in the class of 2019, received an ASRA Best of Meeting Award. The co-authors are Dr. Robert White, Dahniel Sastow, Dr. Michael Andreae, Licia Gaber-Baylis and Dr. Zachary Turnbull. 
Titled "Increased Morbidity and Mortality of Total Hip Replacements for the Uninsured and Underinsured," the study examined how insurance status affects healthcare outcomes for one of the most common surgeries in the United States — total hip replacements. It looked at patients undergoing the procedure in California, Florida and New York from 2007 to 2011. The researchers found that patients with Medicaid, and those who did not have private insurance in general, had higher rates of mortality, postoperative complications and hospital readmission than patients with private insurance. 
"Insurance status itself is a perioperative risk factor," said Dr. Xu. "If you don't have private insurance, your odds of morbidity and mortality are higher." 
Dr. Xu presented the study at the annual meeting, and summarized her presentation in a video. 
ASRA is one of the the largest subspecialty medical societies in anesthesiology. Its mission is to advance the science and practice of regional anesthesia and pain medicine.