September 9, 2019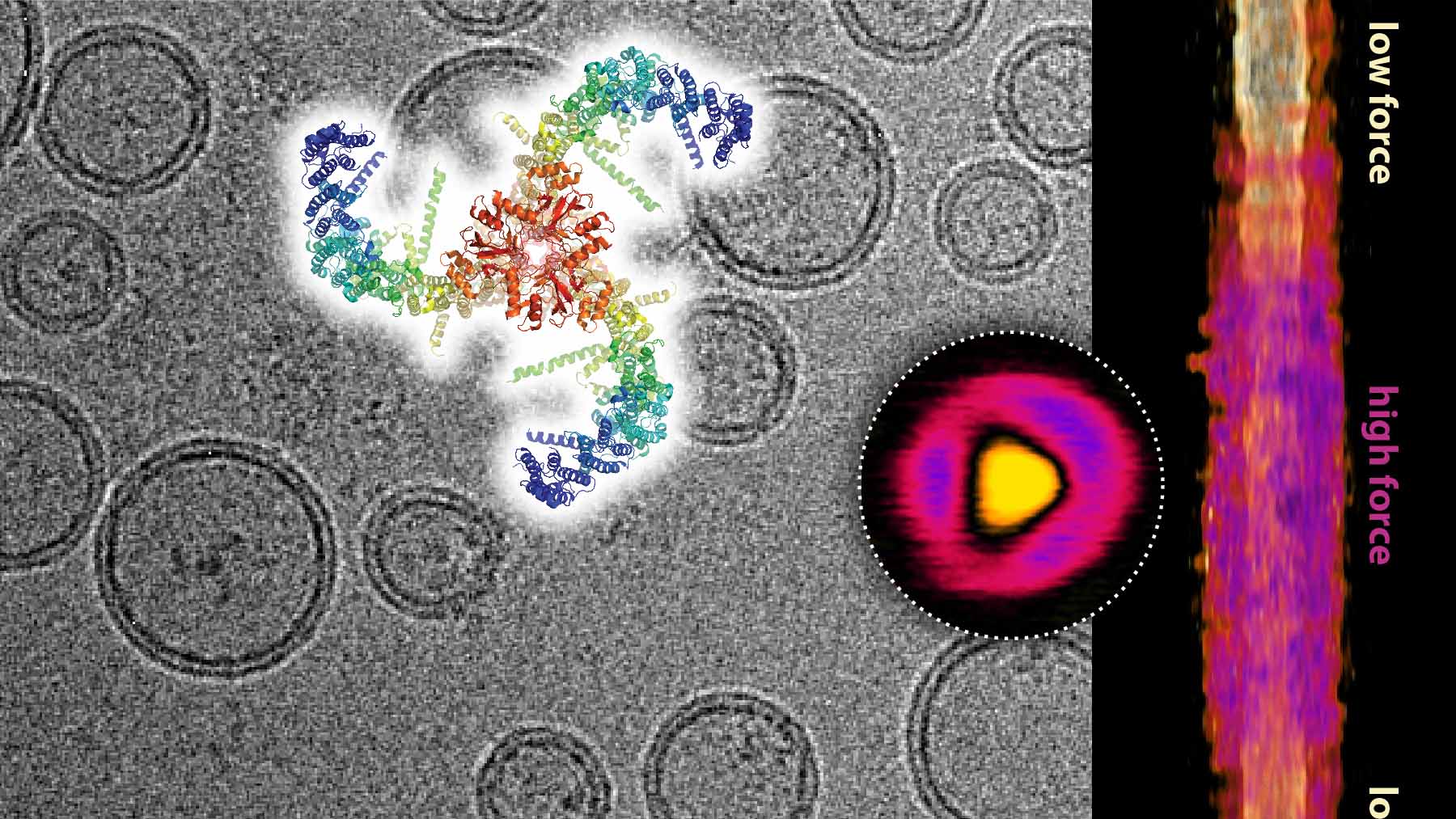 Composite of a cryo-electron microscopy image showing lipid vesicles with embedded Piezo channels, and the Piezo channel structure (top). Topographic image of a single Piezo channel under force as recorded by high-speed atomic force microscopy (circle) and its lateral expansion in the membrane as a function of applied force (right). All images: Dr. Simon Scheuring.
A team of scientists from Weill Cornell Medicine and The Rockefeller University has illuminated the basic mechanism of Piezo proteins, which function as sensors in the body for mechanical stimuli such as touch, bladder fullness and blood pressure. The discovery is a feat of basic science that also opens up many new paths of investigation into the roles of Piezo proteins in human diseases and potential new therapeutic strategies.
In the study, published Aug. 21 in Nature, the scientists used advanced microscopy techniques to image the Piezo1 protein at rest and during the application of mechanical forces. They confirmed this complex protein's structure and showed essentially how it can convert mechanical stimuli into an electrical signal.
"Our analysis shows that tension on the cell membrane in which Piezo1 is embedded can flatten and widen the protein's structure," said co-senior author Dr. Simon Scheuring, a professor of physiology and biophysics in anesthesiology at Weill Cornell Medicine. Dr. Scheuring and his laboratory collaborated on the study with the laboratory of Dr. Roderick MacKinnon, a professor of molecular neurobiology and biophysics at The Rockefeller University. Dr. MacKinnon was co-recipient of the Nobel Prize in Chemistry in 2003 for his work determining the structures and mechanisms of ion channel proteins.
Read the full story in the Weill Cornell Medicine newsroom.