May 17, 2017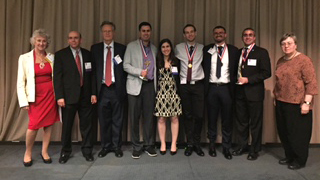 Anesthesiology residents from across the region competed in the third Jeopardy Competition and Case Report Presentation Night, sponsored by The New York Academy of Medicine on May 9.
Drs. Brett Weiner and Jacob Jackson, residents in the class of 2017, claimed the first place trophy for Weill Cornell Medicine and NewYork Presbyterian in one of the two rounds. They faced off against teams from Mount Sinai St. Luke's and West Hospitals, NYU Langone Medical Center, New York Medical College at Westchester Medical Center, Icahn School of Medicine at Mount Sinai, and Rutgers-New Jersey Medical School. 
The evening's challenging Jeopardy questions were created by Dr. Adam Lichtman, associate professor of clincial anesthesiology, who also hosted the competition. Dr. Farida Gadalla, professor of clinical anesthesiology, was co-organizer of the event. 
A reception and case report poster presentations kicked off the evening. Dr. Nicole Ginsberg won second place for her poster, "Insidious MH: Is this the new presentation?"