June 3, 2019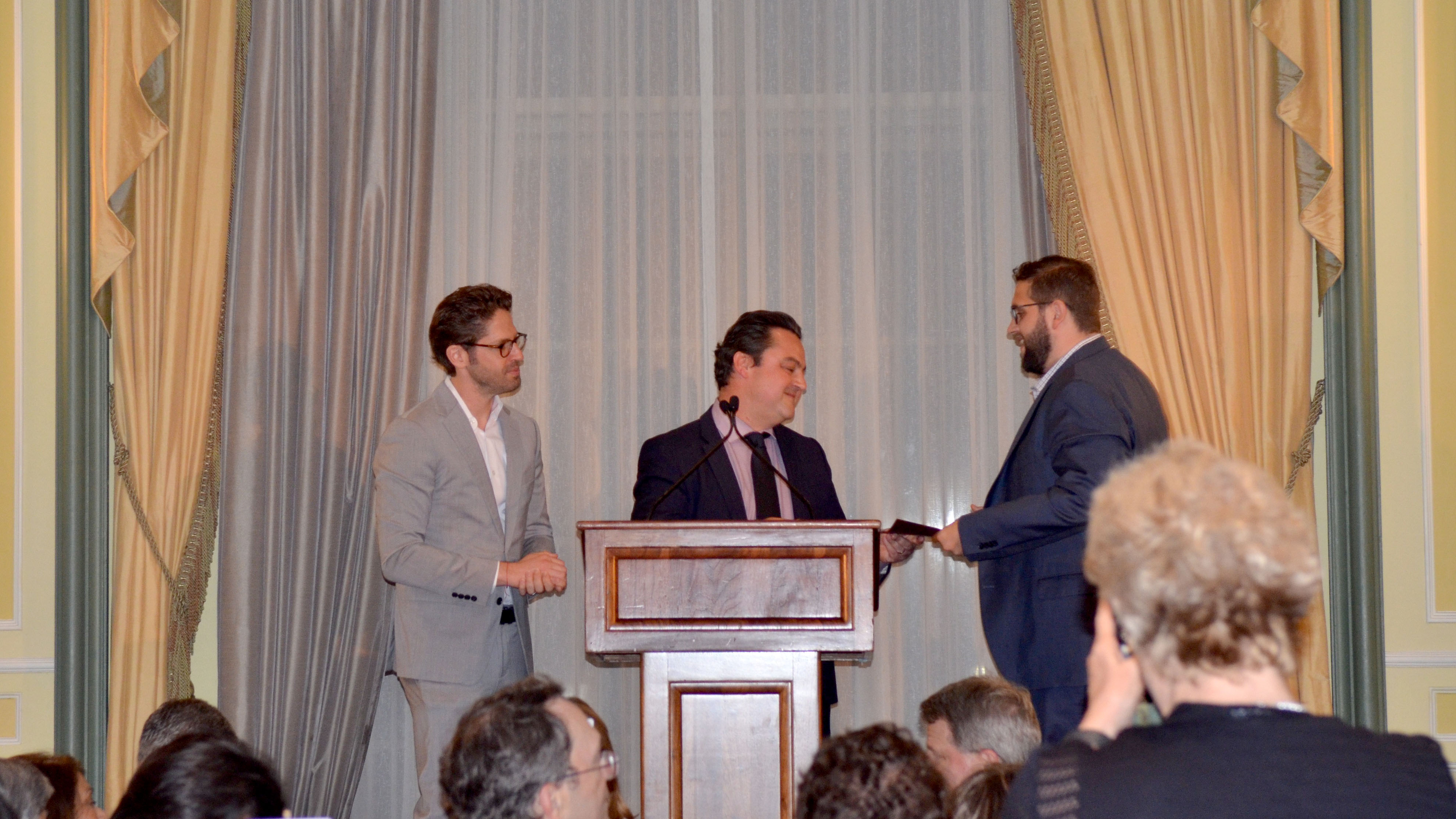 Weill Cornell Anesthesiology's resident class of 2019 gathered with family and friends at The Pierre Hotel on May 31 for a graduation dinner and ceremony.
Department Chair Dr. Hugh Hemmings, Jr. opened the festivities with a toast to the graduates, remarking that they were a spirited, determined and confident class. "Congratulations to an amazing group of residents that we've all had the privilege and honor to work with," he said.  
He also recognized the education division's leadership for the outstanding training they provide, thanking Dr. Kane Pryor, vice chair for academic affairs, Dr. Eric Brumberger, residency program director, and Weill Cornell Medicine faculty from NewYork-Presbyterian Hospital, Memorial Sloan Kettering Hospital and Hospital for Special Surgery. Special thanks, followed by a round of applause, went to Lisa Cabrera, education programs supervisor, who planned the evening's events. 
 Dr. Natalia Ivascu took the stage to mark another milestone: the 50th wedding anniversary of Dr. Stephen (Butch) Thomas and his wife Ellen. "You have made an indelible impression on all of us and this department," she said. "I am forever grateful for their love and guidance." Dr. Thomas is the Marjorie J. Topkins, MD – Alan Van Poznak, MD Distinguished Professor of Anesthesiology.
Ending with advice for the graduating class, Dr. Hemmings counseled the residents to honor the Hippocratic Oath, and the importance of being dedicated to the patient. "If that's something you remember throughout your career, it will serve you well," he said.
 An evening of laughter and good humor followed as faculty celebrated each graduating resident, and presented awards.
Congratulations to the department's 2019 graduates and award winners. They are: 
Class of 2019 Anesthesiology Residents
Patrick Baker, MD
John Brumm, MD
Laura Burey, MD
Casey Chai, MD
Kevin Chung, MD
Daniel Cook, MD
Kelly Crowley, MD
Mitchell Daniel, MD
Rachel Feldman, MD 
Taoyuan Robert Feng, MD
Boyoun Jung, MD
Hannah Lin, MD
Ryan Lippell, MD
Katherine Loh, MD
Oktay Shuminov, MD
Harmandeep Singh, MD
Sebastian Specks, MD
Kathleen Sullivan, MD
Nicholas White, MD
Larry Wineland, MD
2019 Award Winners 
Chief Resident Awards
Mitchell Daniel, MD
Harmandeep Singh, MD
Kathleen Sullivan, MD
Memorial Sloan Kettering Cancer Center Teacher of the Year
Alessia Pedoto, MD
Hospital for Special Surgery Teacher of the Year
Stephanie Cheng, MD
Marjorie Topkins Award for NYPH Teacher of the Year 
Zachary Turnbull, MD
Clinical Excellence in Regional Anesthesia Award
Taoyuan Robert Feng, MD

Ronald A. Leff Award: Excellence in Clinical Teaching by a Resident
Mitchell Daniel, MD
Research Award
Taoyuan Robert Feng, MD
Daniel Cook, MD
Sadel Wortis Klein Award: Excellence in Clinical Performance
Rachel Feldman, MD
Kathleen Sullivan, MD
Joseph F. Artusio Award: Outstanding Resident
Mitchell Daniel, MD
Harmandeep Singh, MD
Rachel Feldman, MD
Related Information: