June 4, 2018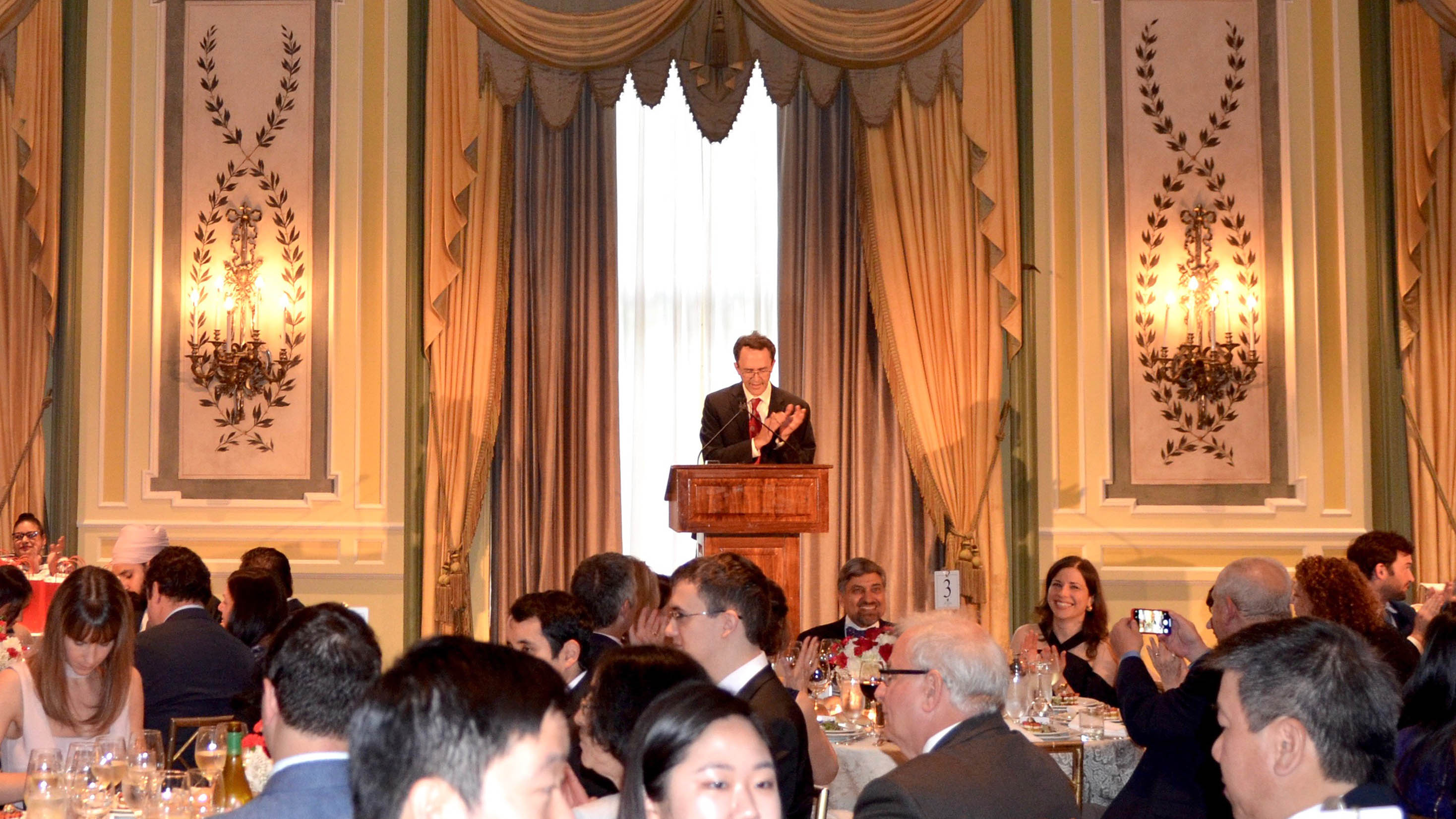 Surrounded by faculty, family and friends, 20 residents and 14 fellows of the Department of Anesthesiology were honored in a festive and elegant graduation ceremony at The Pierre on June 1. Department Chair Dr. Hugh Hemmings welcomed the graduates and their guests, remarking that he was heartened to see such bright and passionate doctors graduate from the program.
"We have immense pride in your accomplishments and in your future success because we're confident that you will be great anesthesiologists," he said.  


Dr. Hemmings also expressed thanks to all who had supported the graduates along their journey from resident or fellow to independent anesthesiologist — including faculty and staff from NewYork-Presbyterian Hospital, Memorial Sloan Kettering Hospital, Hospital for Special Surgery, and the department's own education division led by Dr. Kane Pryor, vice chair for academic affairs and  Dr. Eric Brumberger, residency program director — and he offered guidance to the class of 2018. 
"The best advice I can give is for you to be a physician and to really stick to your core values as a physician, the ideals that you took took when you took your Hippocratic Oath, and do the best you can for your patients," he said.
The evening continued on a high note as faculty toasted and roasted each graduating resident, and presented awards. 
Congratulations to the department's 2018 graduates and award winners. They are: 
Class of 2018 Anesthesiology Residents
James Bergene, MD
Harmandeep Boparai, MD
Robert Bowen, MD, MPH
Joshua Burdick-Will, MD
Timothy Connolly, MD
Andrew Fisher, MD
Nicole Ginsberg, MD
Zachary Hoffman, MD
Deirdre Kelleher, MD
Melvin La, MD
Joshua Marr, MD
Gabrielle Musci, MD
Selaiman Noori, MD
Catherine Rim, MD
Seyed Safavynia, MD, PhD
Christopher Sattler, MD
Amish Sheth, MD
Grace Shih, MD
Maria Walline, MD
Robert White, MD, MS
2018 Anesthesiology Fellows 
Tri-Institutional Pain Medicine Fellowship Graduates
Jasmit Brar, MD
Yan Magram, MD
Anthony Fernandes, MD
Sarang Koushik, MD
Jay Shah, MD
Rita Shah, MD
Jonathan Silverman, MD
Richard Zhu, MD
Cardiothoracic Anesthesiology Fellowship Graduates
Daryl Banton, MD
Diana Khatib, MD
Regional Anesthesiology and Acute Pain Medicine Fellowship Graduate
Katherine Arthur, MD
Regional Anesthesiology and Acute Pain Medicine/Thoracic Fellowship Graduates 
Jason Lee, MD
Brett Weiner, MD
Obstetric Anesthesiology Fellowship Graduate
Jennifer Landon, MD
2018 Award Winners 
Research Award
Robert White, MD, MS
Ronald A. Leff Award: Excellence in Clinical Teaching by a Resident
Joshua Marr, MD
Sadel Wortis Klein Award: Excellence in Clinical Performance
Melvin La, MD
Joseph F. Artusio Award: Outstanding Resident
Seyed A. Safavynia, MD, PhD
Chief Resident Award
Robert Bowen, MD, MPH
Melvin La, MD
Hospital for Special Surgery Teacher of the Year
Ellen M. Soffin, MD, PhD
Memorial Sloan Kettering Cancer Center Teacher of the Year
Lisa R. Barr, MD 
Marjorie Topkins Award for NYPH Teacher of the Year
June Chan, MD
Clinical Excellence in Regional Anesthesia Award on behalf of our Friends @HSS

James Bergene, MD 
Related Information: