Overview
The Weill Cornell Tri-Institutional Pain Fellowship is a unique program which incorporates core rotations at three of the nation's leading hospitals: New York Presbyterian Hospital, Memorial-Sloan Kettering Cancer Center, and Hospital for Special Surgery. Because of the close association of these three affiliates, we are able to offer a comprehensive training program encompassing a breadth of experienced unmatched elsewhere.
NewYork-Presbyterian Hospital/Weill Cornell Medical Center is a major international and regional tertiary referral center. The pain fellows' exposure to a wide variety of clinical cases--including cancer pain, spine-related pain, and other painful conditions such as CRPS--make this rotation unique. Procedure time is split between the OR suite and our new Upper West Side office with en-suite fluoroscopy. Ultrasound-guided procedures may be done in either of these sites or in the main office site. Advanced pain therapies, such as spinal cord stimulation and intrathecal delivery systems, are a focus of this rotation. The focus is on clinical education and the fellows are encouraged to formulate their own therapeutic plans prior to discussion with their attending physicians.
Memorial-Sloan Kettering Cancer Center is the world's largest dedicated cancer hospital. The rotation here offers a very unique opportunity for pain fellows to evaluate patients with all stages of malignant disease. Fellows are exposed to the latest in cancer pain management techniques including neurolytic blocks, vertebral augmentation, and intrathecal drug delivery systems. New and creative approaches to pain management are often necessary for improving quality of life in patient's with advanced disease.
The Hospital for Special Surgery is a top-ranked hospital dedicated to patients with orthopedic and rheumatologic disease. The fellows' rotation offers exposure to a busy, private-practice style situation. There is a focus on cervical and lumbar spine procedures. Advanced therapies include spinal cord stimulation and inpatient intravenous ketamine infusions for CRPS.
Learn more about Pain Medicine and the Pain Fellowship.
Application
Our Pain Fellowship program participates in the National Resident Matching Program (NRMP) for fellowships. Applications are accepted only through the Electronic Residency Application System (ERAS). Applications are accepted on ERAS from December 1 to May 31. Required documents are:
CV
Personal statement
Medical school transcript and Dean's letter
3 letters of recommendation
Passport-size photo
Additional documentation accepted: ITE Exam Score, SAE and any other similar progress examinations (can be emailed to maa2010@med.cornell.edu).
Only J-1 visas are accepted for appoinment at NewYork-Presbyterian Hospital/Weill Cornell Medicine Pain Fellowship Program.
Please email all pain fellowship queries to: painfellowship@med.cornell.edu
Program Director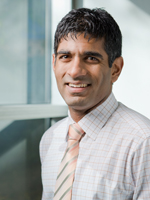 Amitabh Gulati, MD
Assistant Professor of Clinical Anesthesiology
Assistant Attending Anesthesiologist, Memorial Sloan-Kettering Cancer Center
Program Director, Tri-Institutional Pain Medicine Fellowship