Alexander Proekt, MD, PhD
A Member of the Donald Pfaff Laboratory, Rockefeller University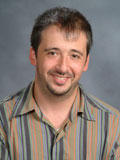 Regulation of the level of consciousness is one of the fundamental functions of the nervous system. Yet it is poorly understood. Despite our ignorance of the basic mechanisms that underlie the regulation of the level of consciousness we are able to extinguish and then swiftly restore consciousness using a variety of general anesthetics. His research project is focused on trying to delineate the neurophysiological processes involved in emergence from general anesthesia. Dr. Proekt believes that investigation of emergence of consciousness may provide insight into which processes in the brain are required for maintenance of consciousness and may help identify neuronal correlates of consciousness.
Kingsley Storer, MD, PhD
A Member of the George Reeke Laboratory, Rockefeller University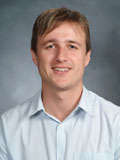 Dr. Storer's major interest is in study of the mechanisms of propofol induced loss of consciousness and amnesia. I am using computational modeling of a thalamocortical neural network to investigate how propofol affects cortical connectivity. Other work involves the study of gamma and theta rhythms in a hippocampal neural network to shed more light on how propofol prevents memory formation.