Kingsley Storer, MD, PhD
A Member of the George Reeke Laboratory, Rockefeller University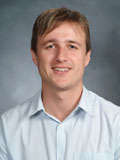 Dr. Storer's major interest is in study of the mechanisms of propofol induced loss of consciousness and amnesia. I am using computational modeling of a thalamocortical neural network to investigate how propofol affects cortical connectivity. Other work involves the study of gamma and theta rhythms in a hippocampal neural network to shed more light on how propofol prevents memory formation.