Chief Residents, 2016-17
DANIEL O'NEILL, MD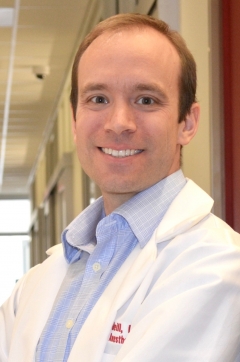 Dr. Daniel O'Neill grew up on Long Island, NY and studied history at Yale, where he was the captain of the water polo team. Following graduation, he worked in education for two years, both in New Haven and in mainland China. Dr. O'Neill returned to the United States to complete pre-med course work at Bryn Mawr College. He remained in Philadelphia for medical school, earning his MD in 2013 at the University of Pennsylvania. 
Dr. O'Neill was attracted to Weill Cornell Medical College for the excellent clinical training and diversity of experience of the tri-institutional system at New York Hospital, Memorial Sloan Kettering, and Hospital for Special Surgery. Among his reasons for coming to WCMC, he also cites the commitment of Dr. Brumberger and the educational faculty to making the resident experience truly outstanding. Dr. O'Neill loves living in New York City, running in Central Park, swimming at Asphalt Green, and soaking in the great food, drink, and culture of Manhattan. After graduation, he plans to pursue fellowship training in pediatric anesthesia. 
Over the next year, Dr. O'Neill looks forward to working with Dr. Starker to build upon the improvements of the past few years and to solidify Cornell's place as a premier anesthesia program nationally.   
ELIZABETH STARKER, MD
Dr. Elizabeth Starker was born in New York City and raised in Summit, NJ. She attended Hamilton College where she majored in biology and competed for four years on the varsity women's lacrosse team. After graduation, Dr. Starker spent two years performing research at the National Institute of Health-National Cancer Institute as a Post-Baccalaureate Cancer Research Training Award Fellow. She returned to New Jersey to attend Robert Wood Johnson Medical School, where she earned her MD in 2013. 
Dr. Starker relocated to New York City for her internship and residency in anesthesia at NewYork-Presbyterian/Weill Cornell Medical Center. She was attracted to the program for its reputation of strong clinical training at Cornell, Hospital for Special Surgery, and Memorial Sloan Kettering, as well as its commitment to residency education. In addition to the outstanding training, Dr. Starker values the amazing group of residents in the program who have become colleagues and friends. Following graduation, she will pursue a pediatric anesthesia fellowship, after becoming inspired by the amazing faculty she's worked with during residency. 
In her free time, Dr. Starker enjoys running along the East River and Carl Schurz Park, spending time with family and friends, and traveling any chance she gets. She is excited and honored to be one of the chief residents this year. Along with Dr. O'Neill, she hopes to continue to improve the residency experience and become an advocate for her fellow residents. 
Mission Statement  
As your Chief Residents for 2016-2017, we are immensely excited and honored to continue the positive momentum that has characterized the Cornell Residency over the past few years. Our training consists of rotations at three world class institutions: Weill Cornell Medical Center, Memorial Sloan Kettering Cancer Center, and Hospital for Special Surgery. Through this training, our stellar residents are consistently challenged with a diverse patient population and case load. Our residents graduate with the knowledge and skills reflective of this world-class training. We have seen exciting growth in our clinical experiences, such as electives in Global Health in India and Veterinary Anesthesia at Cornell University, improving our already stellar clinical training and patient care experiences. 
We have seen the residency continue to stay ahead of the curve with respect to our education and our happiness during our time here. Our educational curriculum has been thoughtfully designed to efficiently and comprehensively prepare us for written board examinations through a combination of didactics, electronic resources and case-based review. The Residency Support Council, an integral part of our residency program, continues to expand its programming, with resident wellness and social support as its highest priorities. As your chiefs, we take our responsibility as resident advocates to be our most important goal. We will work hard to make sure that you feel comfortable coming to us with your concerns and suggestions at any time. The residency is the lifeblood of the department and we look forward to a year continuing to keep that focus central to the mission of the Department of Anesthesiology. We encourage your input and are excited for you to work with us towards that end. Welcome to the Cornell Anesthesiology Family!
Daniel O'Neill, M.D.
Elizabeth Starker, M.D.